ForViva
ForViva is an innovative Housing organisation looking to make a real difference to communities.
Established in 2015, ForViva owns and manages 23,500+ homes across the North West and has brought together City West Housing Trust, Villages Housing Association and construction company ForWorks. Now the ForViva group has transformed the group structure to manage ForHousing, ForLiving and Liberty.
The new structure of ForViva proposed a new project for the marketing and communications team at the housing organisation. The team had a vision that group members under the ForViva umbrella have a visual continuity throughout and drove the plan to replace and modernise each website, which was outdated and didn't work well across the plethora of varying devices in the modern world.
City West Housing Trust is a not-for-profit organisation owning 14,600 homes in Salford. Taking 'a can do, will do' approach to their work, they are proud of their success so far. Strong relationships with our customers and partners have helped us make significant improvements in our local communities.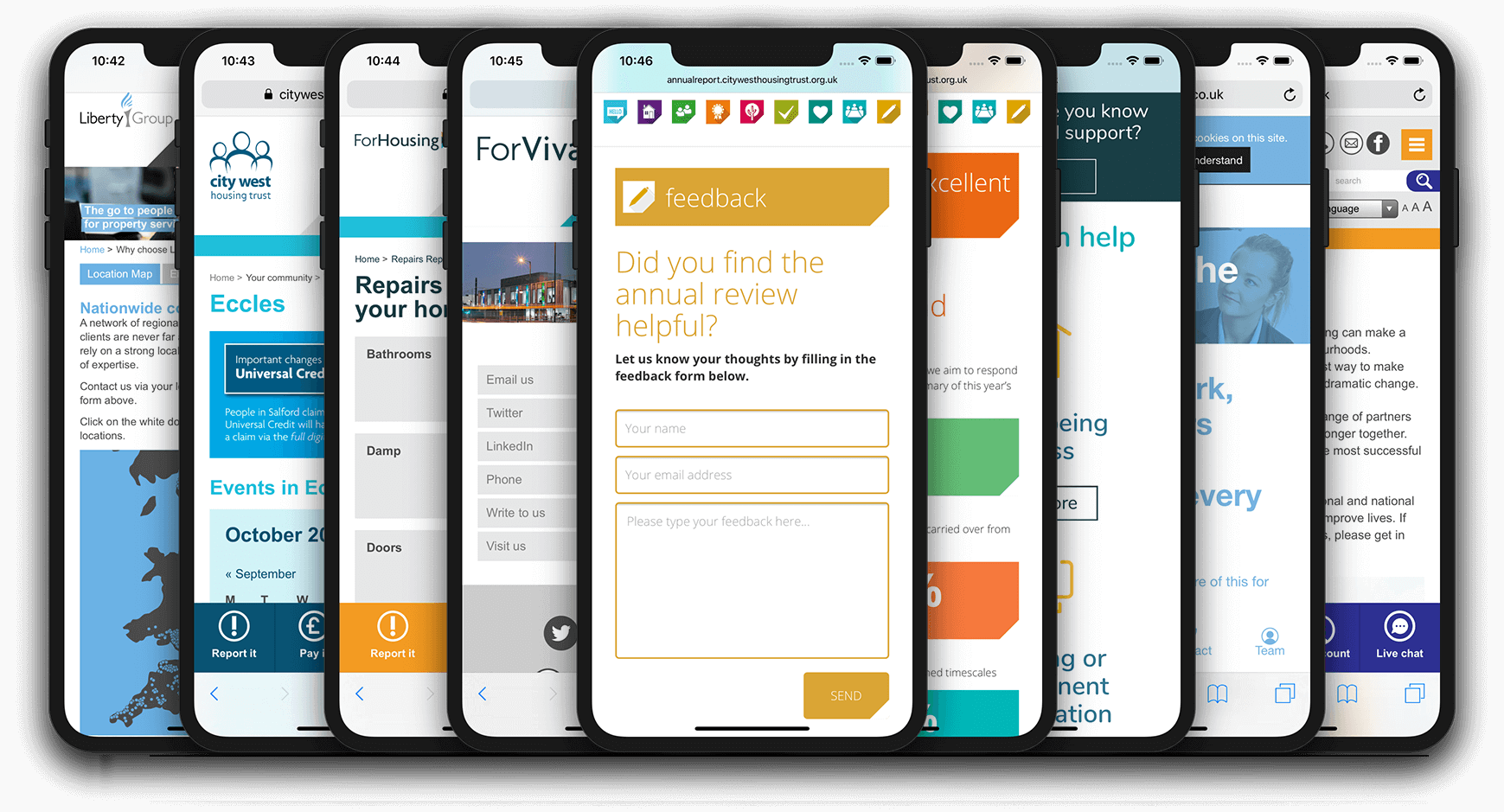 In 2012 a decision was made to revitalise their web presence and through working with Targeted and utilising their SpriteCMS, a new site was launched in 2013 which included:
A new enterprise grade Content Management System (CMS)
A new tenant portal integrated to their Housing Management System
A new Repairs Reporter with smartphone & tablet responsive design
A new Digital Asset library for managing their 40,000 photos
Danielle Moore, Marketing & Communications Exec said "We have been working with Targeted to deliver a responsive website to support our customers living in our 14,600+ homes. Targeted provided a Content Management System, integration to our Housing System, and provide ongoing hosting for our websites and valuable consultancy."
Continuing to work with Targeted, ForViva are using the content management system Sprite, to manage all the group's websites in one central place. The vision to integrate all group members has provided a more responsive and user friendly website for visitors, while also allowing Targeted to integrate their iHousing and the Repairs Reporter bespoke work for the group member's website to help provide a clear visual message and service, across the organisation.
Targeted's content management system is providing a central online platform for each groups marketing and communication team to use. The system enables them to upload and edit content for the website, while scheduling reviews on content so the website is always up to date; as well as helping managing SEO to improve search engine rankings so the organisation can be easily found online.
Jess Fryer, Communications Partner said: "Targeted were able to deliver a system that has completely changed the way we communicate the ForViva organisation online. The system is allowing the marketing and communication teams to work more collaboratively under the new group structure, while ensuring content is kept up to date and reaching the correct audiences online."
She continued: "The team at Targeted are friendly and are always willing to offer advice. They manage all our websites and supported us in implementing new and innovative features. No job is too small for them to help us with, and they make the effort to understand our business needs to offer suitable solutions."
We would love to hear from you