Self-service & automation
A must-have customer self-service portal.
Drastically reduce call centre conacts by empowering tenants to self-serve.
Customer self-service through an online portal can be a game-changer for businesses looking to improve the customer experience and streamline operations. Here are some reasons why:
Convenience: An online portal allows customers to access information and services anytime, anywhere, eliminating the need to wait for a response from customer service.
Time-saving: Self-service options allow customers to quickly find answers to their questions or resolve issues on their own, saving them time and frustration.
Cost-effective: Implementing a self-service portal can help reduce the workload on customer service teams, potentially leading to cost savings for the organisation.
Improved customer satisfaction: By providing self-service options, businesses can empower customers to take control of their own experience and resolve issues quickly, leading to increased satisfaction.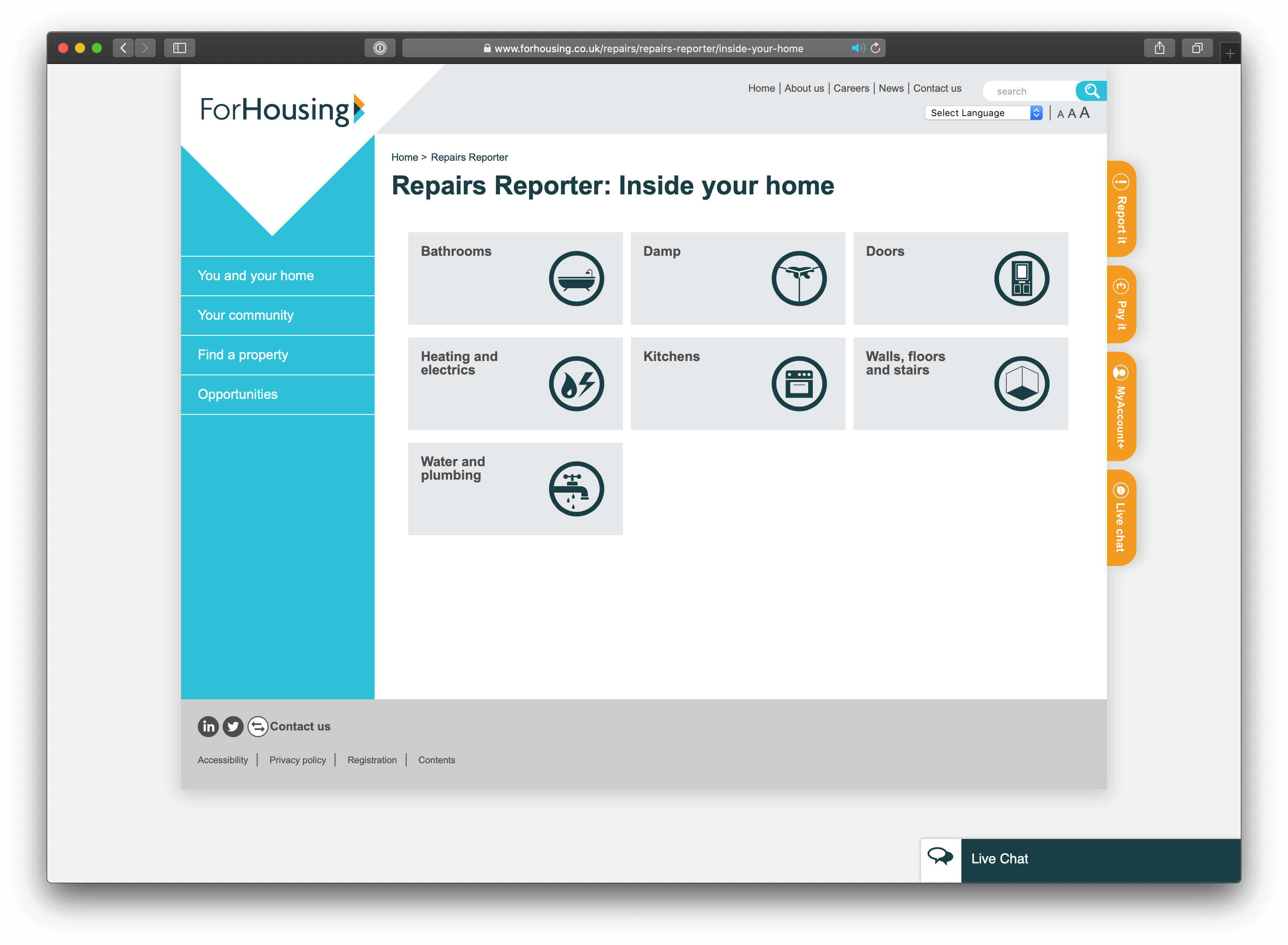 Overall, a customer self-service portal can be a valuable addition to any business looking to improve the customer experience, save time and money, and increase satisfaction. By giving customers the tools to help themselves, businesses can create a more efficient and effective operation.
Created in collaboration with your internal teams we can ensure this tool supports the right repair to be reported, as well as provide advice and information to make clear where a repair is the responsibility of the tenant and if they will incur a recharge. (We've seen great success of this tool, as it has enabled internal staff to utilise the application when diagnosing a repair over the phone with a customer.)
Powered by 100% renewable energy 🍃
Increasingly, there is an expectation from users that common engagement with your company or organisation can be handled themselves. Empowering users to deal with their day-to-day interactions with your company reduces the preasures on support centres and frustrations felt by long waits to speak with an operator.
User self-service increases the statisfaction and retention of staff by removing mundain and often repetative tasks clogging up support desks. Empowering users to handle their own interactions frees up staff to work on tickets requiring their time and expertise.
With a reduction in the number of first-line support engagements, increased user and staff satisfaction, and a reduction in resolution times, self-service products quickly produce a high return on investment.
Proudly trusted by
ForViva

ForHousing

Target Information Systems

Liberty Group

NetZero Collective

ForLiving

ForFutures

Joint United Kingdom (UK) Blood Transfusion and Tissue Transplantation Services Professional Advisory Committee

The Worship Cloud

Sound Safety

Marshall Print

Liberate Academy

Wavin

ProTech

Hepcalc

Cheshire West Recycling

National Blood Transfusion Committee
We would love to hear from you